Company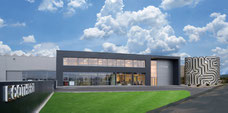 ECOTHERM is the leading brand for turnkey  hot water, steam and solar systems for hotels, hospitals and the industry in the Middle East. The product portfolio consists of individual turnkey systems, high capacity water heaters, electric water heaters, hot water and combination tanks, clean steam generators, solar thermal systems, high capacity heat exchangers, industrial products and fibre fleece insulation.
More than thousands of systems have been installed in Europe, the Middle East, Asia, North Africa and Central America. ECOTHERM inspires its clients with "Individual Heat Transfer Solutions" – individual systems in premium quality, with innovative products and premium service from the planning up to implementing.
ECOTHERM is a brand of ECOTHERM Austria GmbH with its headquarters in Hartkirchen, Austria. ECOTHERM is active in the United Arab Emirates, Kuwait, Saudi Arabia, Qatar, Austria, Hungary, Mexico, India, Libya, Pakistan and further 20 countries all over the world. ECOTHERM Austria GmbH was founded by company owner Herbert Bremstaller in 1996. The origin of the family company dates back to 1880. ECOTHERM Austria GmbH is a TÜV tested welding company to ISO 3834-2 and ISO 9001 : 2015 for calculation, design, production and sale of pressure vessels, heat exchangers as well as for hot water, steam and solar systems.