Advantages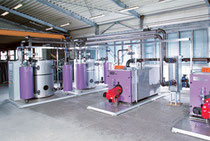 ECOTHERM offers its clients "Individual Heat Transfer Solutions" for hot water and steam generation. The following advantages mark these solutions: 
Individuality
ECOTHERM realizes extensive turnkey systems as well as the production of separate components. Each single plant is specifically aligned to the customer's individual requirements. The basis is an own production in Austria and a wide product portfolio.
Premium quality
All products made of high-class duplex stainless steel guarantee long service life and perfect hygiene. ECOTHERM is certified to ISO 9001 : 2008 to all the required European standards. Our own test bench assures the highest in quality and reliability.
Innovation
We are always open to the new, we constantly research new technologies and we develop path-breaking and future-oriented products. The results of our innovation management are numerous international patents. Our facilities can be controlled and monitored using sophisticated 3D systems.
Premium service
We create enthusiasm among our customers with our excellence in services extending from advice and consulting, to planning, engineering, supervision and specialized training. A new standard in customer support has been set with the ECOTHERM International Support Centre in Dubai launched in September 2011.
Efficiency
Slender decision-making structures, turnkey solutions from a single source and our careful use of energy resources offer the best price/performance ratio. Thorough research and development work is continuously optimizing the energy efficiency level we achieve and the service life of our products.
Experience
With over thousands of in­stal­la­tio­ns in Eu­ro­pe, the Middle East, Asi­a, North Africa and in Central America, ECOTHERM have become one of the technology and innovation leader on the market for hot water, steam and solar systems. Our employees have long service records with us and the continuously refresh their know-how through the outstanding training and seminars the ECOTHERM Academy provides.
Reliability
ECOTHERM systems are monitored around the clock and can be serviced at low cost, quickly and efficiently via an advance control panel. Our own designed plants have low maintenance requirements and are totally dependable.
Sustainability
Our products help our customers to save energy and money. We save valuable resources through the use of renewable energies. Our high-performance facilities have minimal space requirements and provide the maximum energy savings. When planning new products we take all the qualitative and economic principles into account in accordance with ecological principles.
Partnership
We live in a partnership with all our customers, suppliers and employees. This relationship is characterized by honesty, commitment, openness, trust and reliability. The objective is our joint long-term success.
Internationality
The international alignment of ECOTHERM with locations in Dubai, Kuwait, Mexico, Hungary, India and further partners in more than 20 countries is the basis for our flexible and efficient project implementation that is always on schedule.