ECOCRM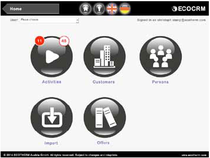 All ECOTHERM franchisees get access to the ECOTHERM customer relationshop management tool "ECOCRM". There all existing contacts from ECOTHERM in the country of the franchisee are accessable. Especially if ECOTHERM has already participated at an exhibition, the franchisee will find all generated contacts there.
The users can add information to the contacts as e. g. "is interested in photovoltaic solutions".
Activities can be added to a contact as e. g. meeting, presentation, invitation, training etc.
Sent offers can be added with the ECOSIZE offer number.
Furthermore for all offers the total value, the expected date of the order and the probability of the order have to be added to an offer.
The ECOTHERM headquarters uses these data to plan their ressources
accordingly.