ECOTHERM Academy: Professional Training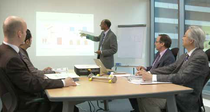 The purpose of the ECOTHERM Academy is the strategically planned training
of all employees and partners. The academy systematically evaluates the
needs and wishes of all our employees and partners for further training. Here,
the strategic goals of the company for the next couple of years are also considered in planning.
Your employees who will work for ECOTHERM will get a professional training
on the following topics:
General company information
Sales & Marketing
Franchise System and its tools
Hot Water Solutions
Steam Solutions
Solar Thermal Solutions
Each participant will receive a certificate of the ECOTHERM Academy. Use
this certificate also for your sales activities in order to underline that you are a
professional ECOTHERM engineer.